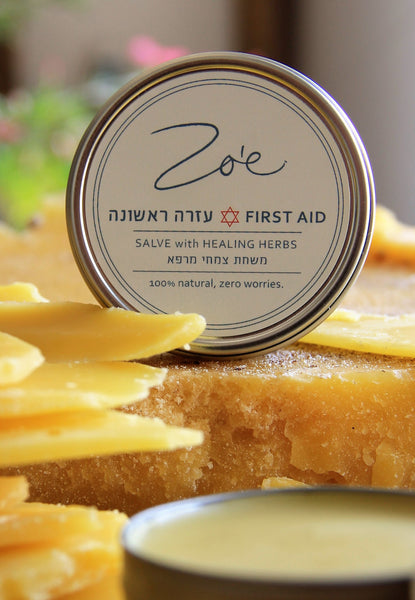 FIRST AID SALVE
with healing herbs
EASES itchiness, soothes burns and speeds the healing of bruises and minor scrapes. Use instead of lotion to soften rough hands, elbows and feet.

INGREDIENTS: Coconut, extra-virgin olive and sunflower oils, infused with calendula, chickweed, plantain, St. John's wort and marshmallow root; shea butter; and fragrant beeswax from local bees. Costly myrrh oil and tea tree lend a fresh, hygienic scent and give this soothing salve an extra anti-inflammatory and antibacterial boost. 

DIRECTIONS: Before applying, clean and disinfect affected area well; immerse burns in cool water until pain subsides. Do not apply to open wounds. 35g / 1.2 oz / 50ml

ZOEhack: Bring an easy-travel tin on your next vacation and apply to windburn, sunburn, weird bumps that weren't there yesterday, parched skin, itchy insect bites, hot coffee spills and other travel misadventures. 
---