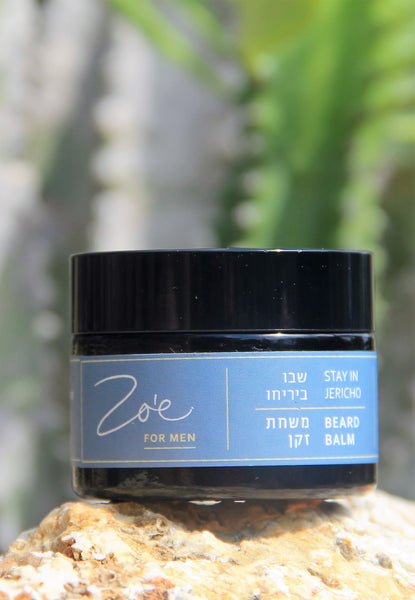 STAY IN JERICHO
beard balm
"STAY IN JERICHO!" Thus David ordered his men to not return to Jerusalem until their beards, shaved by the enemy, had grown back. Too bad they didn't have our balm to get them through those first itchy weeks, or to enhance their beards' natural luster once they had!

OUR BEARD BALM is infused with herbs known to ease itchiness and reduce redness, then lightly scented with a manly blend of lime, vetiver, juniper berry and costly Mysore sandalwood essential oils, all reputed to encourage beard growth — and, not incidentally, romance!

DIRECTIONS: Scoop out a pea-size amount of nourishing balm and warm it in the palm of your hands. Massage well into skin and beard.

BONUS USE! For softer, shinier and more manageable hair, stimulate the scalp and ease any itchiness by massaging in a tiny amount of STAY IN JERICHO. Distribute through and down to the ends. 

INGREDIENTS: Handcrafted in small batches from the oils of argan, coconut, jojoba, and avocado, which have been steeped in nettle, marshmallow root, calendula, plantain, chickweed and St. John's Wort. Organic shea butter and honey-scented beeswax serve as healing emollients. 35g / 1.2 oz
---