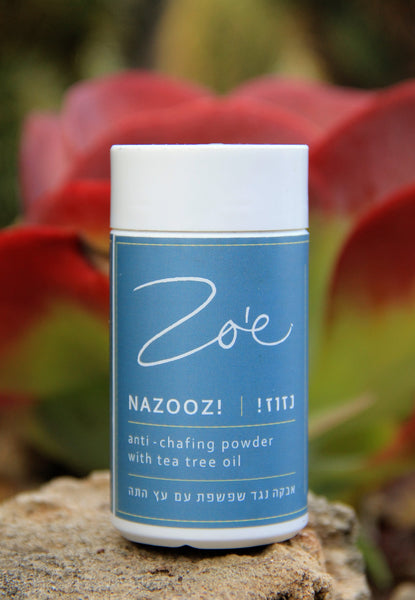 NAZOOZ!
body powder
NAZOOZ! means "Let's move!" and this silky all-purpose body powder will help you do just that.
DIRECTIONS: Sprinkle in shoes, under arms and anywhere you feel chafing, itching or sweating. Perfect for summer, and a lifesaver for soldiers and athletes!

FREE! We happily hand out travel-size containers of NAZOOZ! to IDF soldiers (or their moms or dads) at all our events. Just call or send us a message and let us know you're coming, and we'll put one to the side for you!

INGREDIENTS: Our talc-free powder is handcrafted from absorbent kaolin clay, arrowroot powder, activated charcoal, zinc oxide, ground lavender, magnesium hydroxide and just a touch of sodium bicarbonate. Tea tree, thyme, eucalyptus, mint, myrrh and lavender essential oils lend their antibacterial and antifungal properties and a fresh, cool and clean scent.  57g / 2 oz

ZOEhack: Forgot the KEESHTA! and now you're scratching like crazy? A tip from the field: Add a few drops of water to make a paste to soothe itchy insect bites. 

ZOEhack 2: Has your deodorant suddenly stopped working? Don't panic! Instead, pat NAZOOZ! under your arms. You'll stay dry and fresh-smelling for at least anhour. Reapply as needed, or until your next shower.


---