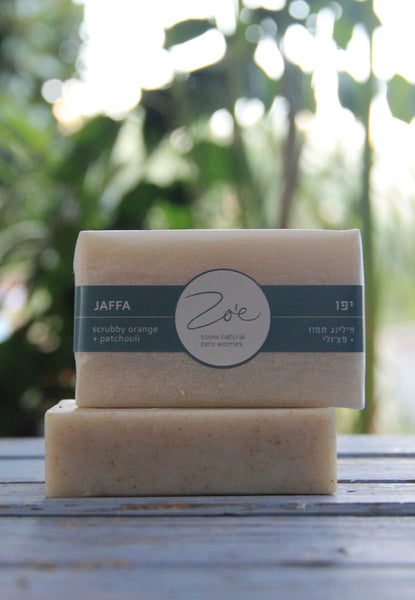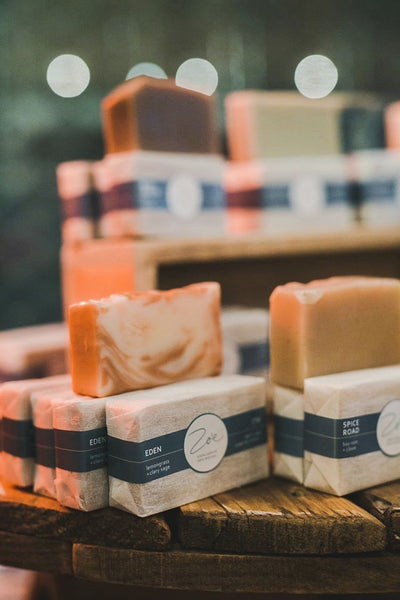 JAFFA ORANGE
bright + scrubby
NAMED FOR ISRAEL'S MOST FAMOUS EXPORT and her most ancient port, this cheerful bar is scented with a blend of orange essential oils and just a touch of patchouli for depth. We've added ground apricot ("mishmish") seed and yellow polenta for a mild scrub.
HANDCRAFTED in small batches from seven pure oils—olive, coconut, sustainably harvested palm, avocado, jojoba, castor and shea—our soaps will leave your skin feeling hydrated and happy.  110 grams / 3.8 oz 
_____________________________________
People sometimes seem surprised that we don't make body lotions or creams. But we have more than a dozen very good reasons why we don't!
Our artisanal soap, made the cold-process way, retains its natural glycerin — crucial for keeping skin from getting dry and itchy, particularly in winter. And if that weren't enough, each bar is generously sized and wonderfully fragrant, with playful names that can only be found at the intersection of modern Israel and biblical history.
So say "l'hitraot" (see you) to bottles of lotion and pots of cream and stock up now!