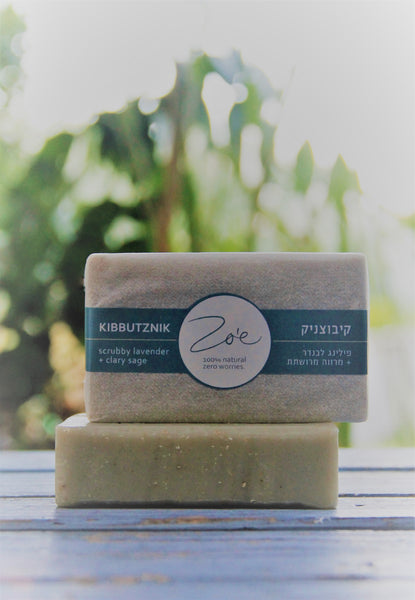 KIBBUTZNIK
scrubby soap
EVERYONE WILL BE AMAZED at how well you clean up! This hardworking bar has been enriched with cornmeal and French green clay to scrub off dirt; shea butter softens those rough edges. Scented with a sophisticated blend of clary sage and lavender essential oils.
HANDCRAFTED in small batches from seven pure oils—olive, coconut, sustainable palm, avocado, jojoba, castor and shea—our soaps will leave your skin feeling hydrated and happy.  110 grams / 3.8 oz 
_____________________________________
People sometimes seem surprised that we don't make body lotions or creams. But we have more than a dozen very good reasons why we don't!
Our artisanal soap, made the cold-process way, retains its natural glycerin — crucial for keeping skin from getting dry and itchy, particularly in winter. And if that weren't enough, each bar is generously sized and wonderfully fragrant, with playful names that can only be found at the intersection of modern Israel and biblical history.
So say "l'hitraot" (see you) to that bottle of lotion you snuggle with each winter and stock up now!